Im sure you've all seen the piccies of our massive new house, hopefully it won't be long till I own something similar myself, few more years grinding away on the ye-ole-keyboard !!
Enough of the future crap, I'll tell you a little about myself. I'm sure you've all gathered that we all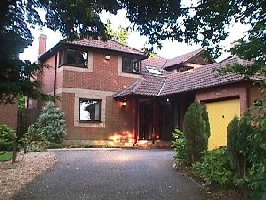 work at IBM Hursley Laboratories. I guess you can tell from the pictures Cheesy is used for human testing, but soon unfortunately he will no longer be needed due to the loss of his human like attributes, he now resembles a tub of lard as you'll have seen in the photos!!

I originate from a heaven called Sheffield over 200 light-miles away, even you would think its like heaven after living in Portsmouth for 9 months!! However in June we decided to move from Portsmouth to Locks Heath which is just outside Southampton, which is about 1,000,000 times better than Pompey. Pompey's main problem, unlike its name sake (Pompeii), has no volcano to do itself a favour and destroy itself to allow a complete rebuild. But I'm finally now enjoying life living in Southampton and trying to live life to the max while Im still single, and forever will be at this rate!!